the most frequent questions asked by customers as professional painters in Toronto is the pricing or painting cost questions.
For example, how much to paint a 2 bedroom condo in Toronto, the cost to paint a room, the painting cost per square foot and condo painting estimate.
the answer to those questions is simple but the pricing varies depending on the following
What is the size of your condo?
Are you painting couple rooms only or the whole unit?
How tall is the wall? 8ft or 9ft?

the taller the wall is, the more material is requried

Any big holes need to repair?

we always fix the nail holes and cracks before painting.
For big holes, we have to fix it one day in advance as the mud does take one full day to dry

Are closets required?

even thought closets are small in size, it does take longer to paint than bedrooms.  Therefore, more labor hours are required

Is trim and door required? how many doors?

Ask us if we can cover the trim at zero cost, in some situations, we do.

Is ceiling required? is it smooth or stucco (popcorn) ceiling?

Popcorn ceiling needs more paint

How many colors will be painted?

one color is always cheaper and easy to paint because we do not need to prepare another set of tools for additional color.
it also saves one or two gallons of paint. for instance, accent wall does not need full gallon but we have to buy the full gallon for this color.
 
In a typical scenario, an unfurnished condo in the range of 500 to 800 square feet (1 or 2 bedroom condo)
only one color is through the whole unit.
We are painting walls of bedrooms, living rooms and bathrooms with no closets
We only need to patch the nail holes and small cracks.
With water resistant paint in bathroom for better water protection.
Trims, doors and ceiling are not required.
With two coats of paint on walls, you are looking at total $950 to $1550 with regular Benjamin Moore eco paint or equivalent of  Sherwin Williams and Dulux eco paint.
Or $1.3 for the painting cost per square foot without paint
If you want to know how many gallons of paint you need for your condo painting project, use this Paint Calculator
If you consider to upgrade the paint, read our blog "choose the right interior paint for your project"
How long does it take to paint a condo?
For us, the first day of painting is really about preparation works. 
Day 1, we will spend most of the times on
patching nail holes
removing power outlet covers
sanding walls to smooth
caulking the cracks and etc
if time is allowed, we can start painting 1 small room
Day 2, we will start painting the whole condo
So, it normally takes us 2 days to complete painting walls. 
In some cases, we can finish painting in one day but we prefer 2 days to complete the job without rush.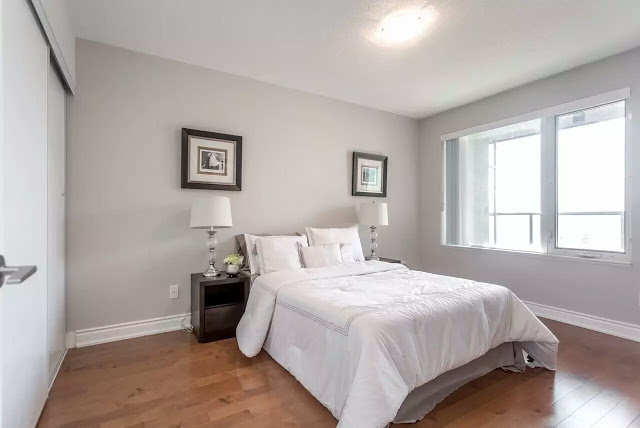 How much does it cost to paint a room?
If you want to paint one room only, we do provide this painting service for one bedroom or living room in Toronto.
Even though this type of work does not takes full day to complete, we have to charge a full day price for this service.
It is because we cannot schedule anything else for the rest of hours. 
So, for this one room painting service, our price is $250 not include paint.
However, you can get cheap painting quote if your condo is close by our working location.
below is our project snapshot video of condo painting in Toronto
If you have trouble to select paint colours, we have this blog " the modern paint color schemes for condo" to help you with colour selection.
If you are selling or renting your condo, check our blog "color that sells condo fast".
At the end, if you are confident with us, contact us for free painting quotes and let's start a project together.
If you want to know the cost of paint house in Toronto, read our blog "how much to paint a house in Toronto"